After you finish creating a bulletin in Christian Worship Service Builder, you can export the bulletin to view, format, and print it using Microsoft Word or another word processor. Bulletins can be exported as a Word, RTF, or HTML file. Since Christian Worship: Service Builder has limited formatting options, exporting a bulletin and editing the formatting in a word processor may be a better experience.
Here is how to export a bulletin:
From the Calendar view, select the service you would like to export. (If the service is planned and the bulletin has been created, skip to step 4.)
Plan the service and click "Prepare Bulletin" in the upper right corner.
Make any changes you need to finish the bulletin.
Select the Document tab at the top of the view and then click the "Export" button.
Select the type of file you would like to export the bulletin in.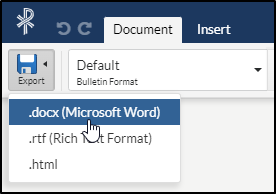 Note
Opening a Microsoft Word file in a different word processor (OpenOffice, Google Docs, etc.) will result in some formatting being lost. It is recommended that the files be opened in Microsoft Word only to prevent additional time being spent reformatting the bulletin.